The International Visitor Leadership Program is sponsored by the U.S. Department of State with funding provided by the U.S. Government and supported in its implementation by the World Affairs Council of St. Louis.
Our Role
The State Department, working with Global Ties U.S. and other not-for-profit agencies, supplies ideas for visitor programs and cultural experiences. World Affairs STL is one of the 85 organizations throughout the United States who put these ideas into action. Using a network of local professionals and businesses, World Affairs STL creates an engaging cultural & educational agenda to fit the interests of each visiting international group.
The St. Louis region is an ideal destination for program visitors because of its vibrant business community, diverse ethnic makeup, and unique historical background. We have hosted as many as 250 in any given year.
More About Funding
Our State Department funding is based upon the number of IVLP visitors we receive each year, but those funds are not sufficient to cover the total cost of the work we do to make IVLP and our other programs possible. We rely on membership dues and contributions for the means by which we build bridges between our community and citizens in other nations.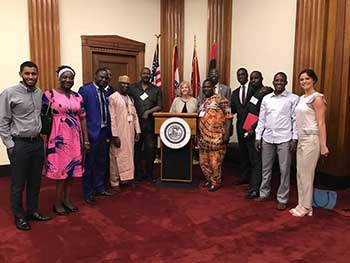 Program Impact
When business, nonprofit, government, and academic leaders from around the world connect with their counterparts in the U.S. through the International Visitor Leadership Program, the relationships they forge become a powerful tool for addressing some of our biggest global challenges.
St. Louis Regional Impact
Lasting Relationships
Professional and personal connections are made between international visitors, local business owners & professionals, and Dinner Diplomats.
Promotes Our Region As A Destination
Not only are international visitors impressed by St. Louis as a travel & tourism destination, but programming agencies and the U.S. State Department also learn more about what our city has to offer.
Hotel & Transportation Revenue
IVLP participants stay at least 3 to 6 nights in local hotels. Local transportation companies are hired to deliver visitors to & from Lambert Int'l Airport, and to participants' professional meetings.
Food & Beverage Revenue
During the several days of their trip, international visitors support our food & beverage businesses with their patronage.
Gratuities & Tax Revenue
Visitors pay hotel occupancy taxes and other sales taxes through local businesses such as restaurants & shops of all kinds. Hotel employees and food & beverage workers all benefit from visitors to St. Louis.
Be A Citizen Diplomat
Many ways to participate in the International Visitor Leadership Program
The World Affairs Council of St. Louis cannot further the ideal of citizen diplomacy without volunteer support from its members and programming resources in the community.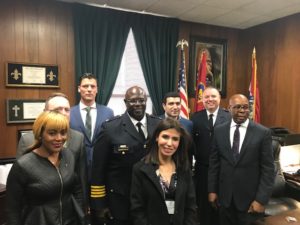 Be A Professional Resource
Visitors come to exchange policy ideas & foster personal connections with their professional counterparts here in the St. Louis region. Would you like to participate in IVLP as a professional resource for international visitors? Local resources are members of various types of businesses, nonprofits, and professions.
Take Visitors Sightseeing
Although visitors spend most of each day in meetings, tours of St. Louis' famous landmarks & institutions are also a popular part of their visit. This is another fun way to make friends and learn about others cultures. Would you enjoy spending a half-day showing visitors the sights that make St. Louis unique in the U.S.?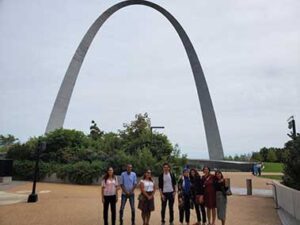 Welcome Visitors at Lambert Airport
Be the first to welcome visitors when they arrive in St. Louis by greeting them at Lambert Airport, providing them with welcome packets, answering general questions, and escorting them to their pre-arranged transportation (bus or car service).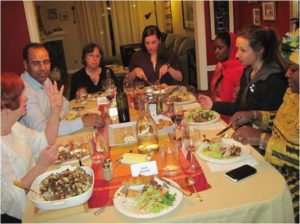 Host Visitors For
Lunch or Dinner
Our visitors enjoy the chance to interact with St. Louisans in their homes. Hosting visitors for lunch or dinner is a great way to get to know them and play your part as a citizen diplomat. There are opportunities throughout the year to host visitors. Dinner Diplomacy was formerly known as Home Hospitality.
 Future World Leaders Visit the U.S.
And Make Lasting Connections in St. Louis
World Affairs STL hosts International Visitor Leadership Program participants several times per year. U.S. embassies abroad designate which visitors will travel to the United States and the topics on which they will be meeting. Visitors explore the best St. Louis has to offer as part of their U.S. travel itinerary. The first week of the program is held in Washington, D.C. Afterward they continue on to two or three cities across the States to take part in various activities and opportunities for information & cultural exchange.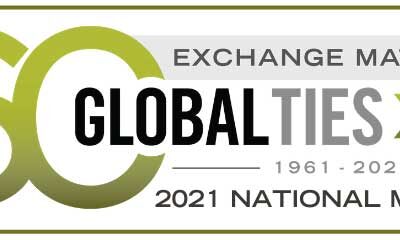 The International Visitor Leadership Program is sponsored by the U.S. Department of State with funding provided by the U.S. Government and supported...
read more
Subscribe To Our Monthly Newsletter