Council members are dedicated to promoting international education, multicultural activities, lively discourse, and hospitality related to a variety of international affairs' activities. Corporate and individual members participate in a wide variety of unique activities:
• Educating & hosting participants of the U.S. State Department's International Visitor Leadership Program. Through this program, members meet people from around the globe;
• Volunteer & support WorldQuest – an annual international knowledge competition for high schools in our region;
• Celebrating international excellence through the Gateway Globes & Humanitarian of the Year awards:
• Unique opportunities for dialogue with ambassadors, authors, and leading internationalists on world events, policies and current issues;
• Network with corporations and individuals through multicultural seminars and social events.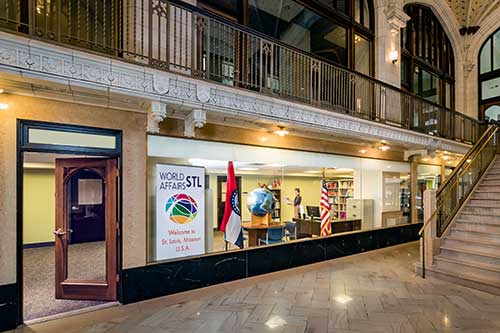 World Affairs Council of St. Louis is located in the Arcade-Wright Building in downtown St. Louis. Construction began in 1906 and once completed it was at the time the tallest concrete structure in the world.
Corporate sponsors and individual members' fees enable the Council to fulfill its mission as the St. Louis entity promoting global citizenry, friendship among nations, multicultural understanding, and the development of mutually beneficial partnerships with other countries.
Corporate Memberships
Embassy –   $10,000
Consulate – $3,000-$5,000
Diplomatic Corps – $2,500
Patron –    $1,500
Academic institution, Nonprofit, Small business – $750
Interested in learning more about our corporate sponsorships? Please contact us at (314) 727-9988.
Individual Memberships
Ambassador – $2500
Consul – $1000
Citizen Diplomat – $500
Patron/Family – $150
Young Professionals – $75
Seniors & Students – $50