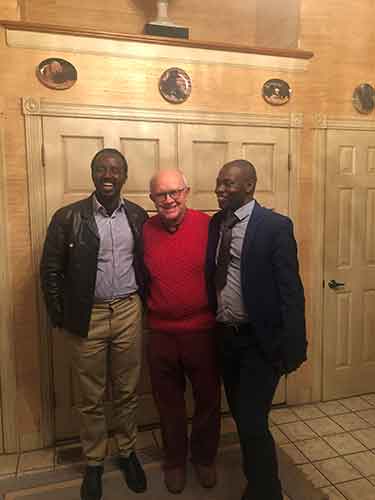 World Affairs Council of St. Louis Board Member John Lewington welcomed the director of Anti-Human Trafficking Rwanda Investigation Bureau and Head of the Rwanda Border Coordination Division pf Immigration and Emigration to this home as a dinner diplomat in January, 2020
In January, World Affairs welcomed a group of four IVLP visitors from Rwanda who arrived in St. Louis as part of the program "Combating Trafficking in Persons." While here, they had the opportunity to meet with members of the Washington University Human Trafficking Collaborative Network, a reporter from the STL Post-Dispatch, the Healing Action Network representatives, prosecutors from St. Louis County and the U.S. Attorneys' Office to exchange ideas to help trafficking survivors.
Due to the COVID-19 health emergency, all IVLP in-person programs were cancelled through the end of the year. Programs have now pivoted to virtual IVLP programs and we were able to host our first such program, "Gender Inclusion in Pakistani Workplaces" in August. Speakers Wendy Fraser, PhD., World Affairs STL Board member Donna Kirtian, and Professor Leilani Carver-Madalon shared their insights and experiences on the topic of "Women in Leadership." April Santos and Jeff Serocke, who are Human Resources professionals, presented on "Human Resource Best Practices in the US."
World Affairs STL has two more upcoming IVLP programs. These are "Non-governmental Organization Management" and "Social Movements in the U.S," which will feature IVLP alumni.
We continue to actively pursue additional IVLP virtual programs on various topics. We are also seeking ideas and volunteers to provide virtual cultural activities for potential visitors. Have ideas or want to volunteer? 
The International Visitor Leadership Program is sponsored by the U.S. Department of State with funding provided by the U.S. Government and supported in its implementation by the World Affairs Council of St. Louis.